---
---
Instruments
---
---
"Basic Technique for Hand Drum and Tambourine"
Here is a well-organized instructional videotape and notebook for drummers of all experiences and backgrounds. It begins with instructions on how to hold the instruments and then demonstrates, step-by-step, the various sounds made with the fingers and hands. After working on basic duple and triple patterns the student learns some catchy rhythms.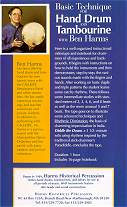 There follows some intermediate studies with standard meters of 2, 3, 4, 6, and 8 beats as well as the more unusual 5 and 7 beats. The tape goes on to illustrate some advanced techniques and Rhythmic Diminution the basis of drumming improvisation in India. Diddle the Doum, a 3 1/2 minute solo using rhythms inspired by the traditional stick-drummer's Paradiddle, concludes the tape.
Duration: 1 hour (Includes 16-page Notebook)


Basic Technique for Hand Drum and Tambourine....
$39.95

Shipping $5
"The video methodically and lucidly covers hand positions and basic strokes... and (has) a solo performance by the author, convincingly demonstrating what can be accomplished using only the basic techniques presented on the video...

"Harms indicates that hand-drumming was prevalent in Europe until the 17th century, after which it was replaced by performance with sticks. After viewing this video, one cannot but notice that when hands gave way to sticks, the possibilities of producing many different sounds from one simple instrument was sacrificed. By recapturing this "lost art", percussionists may also recapture finesse and subtlety in their performance on modern instruments."

- Percussive Notes "Selected Reviews" October, 1998

---

"Thank you for your marvelous video. I wish someone did something like this for the recorder."

- From an "early music" enthusiast